Dear friends and community members,
Our silence is not for no reason.
We are now within the last phase of preparing you a new version 3.5 for your prodigy and sidewinder 3 devices.
Some of you already got the early betas and have an idea what is coming
for those of you who dont here is a short list
(1) We changed the entire On Screen Display. It is now more modern and looks much more stylish. Your Zoom, GOTO, Subtitle and SKIP were all improved.
(2) We added a better time skip function. You will be able to Jump while movie is playing 3 Min by simply pressing the UP Arrow key on your remote. DOWN key and Direction Keys are also active .
(3) We added many scripting tools into the fimrware as requested by our community developers. Python, Pearl and App Installer is around the corner.
(4) The new version will introduce you to the concept of jukebox . The challange was to make it work smooth, stable and reliable. we are now doing further work on these subjects. The result is that you will be able to go to your media library, focus on a folder with movies inside, Press the Menu (6 on your remote) select "GET MOVIE INFO" and the process will start. The Internal jukebox engine which we wrote from scratch will allow you later once the process is finished to enjoy a new layer of information about your movie library. You will be able to press the INFO button on the remote while the movie is played and get the full movie synopsis and poster. You will be able to do it even when the movie is not played . And most importantly, if you go to the main screen of your device you will be able to see that we have added a new item called "Movie Jukebox" that once clicked will open for you a new world of navigation based on content and posters. Very much the same way it is done in XBMC or Plex or Boxee.
The realy sweet is that you will not be required to use any PC software to fetch data of your movies. For now we made only 2 scrapers (English and Hebrew) . The scrapers API will be made open and available to you all to add more scraper plugins in the future.
We are pushing the RD teams to finish their work within this week. We will release you a new open beta as soon as it is more or less ready. Your feedback will be appreciated so as to allow us to debug a final version 3.5.
Once we will finish version 3.5 we will start version 4.
*****
Another small update.
This image will show you what will happen on your screen when you will start the process of scraping a folder.
We are aware that many users normally have a folder called MOVIES where inside they keep many subfolders, where each movie has its own folder with the movie name.
So once you select your <MOVIES> folder and press "GET MOVIE INFO", you will see a pop up asking you to select the scraper plugin (TMDB/TOREC = English/HEBREW) and to select the method of identifying your movie (BY the Folder name/ By the movie name) and than you will be able to START the process.
Once you will click start ....you will see this :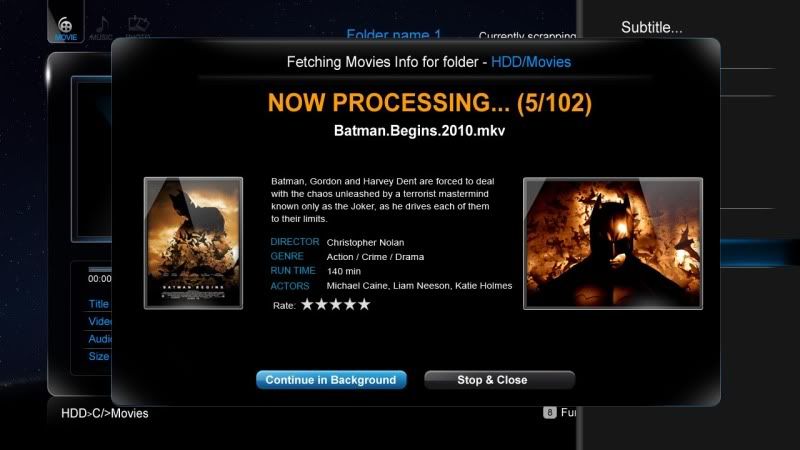 The challenge we are facing now is being able to provide you a smooth as possible experience....we know that file names have different formats. There is a "generic" file name convention we try to follow...but identifying that "22.bullets.1080p.bluray.x264.DNL.MKV" is the movie named "22 bullets" is not an easy task.
Once the movie name is clean and has a clear naming convention ...no problem at all. We will try to improve the identification of the movie name from the movie you originally ripped.
We recommend that you prepare your Media library and movies folders so that they are named in a specific format. The clearer you name your movies the better the chance the scraper has in identifying the movie correctly.
Soon in your TV.
****
Check for more Q&A here:
http://forum.xtreame...d-sidewinder-3/